"Lie down, lock it up, and STRRRETCH!" -Richard Rossiter
** ROSSITER SYSTEM "WORKOUTS" **

These are intensive connective tissue reorganization workouts!  It is HIGHLY RECOMMENDED that Rossiter System "Workouts" articles be read prior to receiving a Rossiter session, so that more time can be spent STRRRETCHING!
Rossiter System Workout Information Brochure
Rossiter System "Workouts" last from 1 hour to less than 1.5 hours (no more than 85 minutes), focusing only one one or two or maybe three pain areas.
I am a Certified Rossiter Coach.  If you don't have much time and want to get rid of pain fast, Rossiter System techniques are the way to go!  Rossiter System techniques use deep pressure (my weight) on contracted muscles, while the client performs small muscle movements in the "locked" position to optimally STRETCH the connective tissue/fascia.  Sessions are very intense and are focused on specific areas of pain in the body.  These session are referred to as Rossiter System Workouts.  Many times I incorporate these techniques into the Structural Integration System of sessions.  Clients remain clothed and generally on floor mat or bench.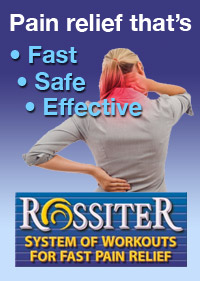 The Rossiter System techniques are all about attention to details.  It is imperative that the client do the locks properly and stretch hard.  It is about finding his/her own pain and figuring out what movements will get rid of it.  It is not supposed to feel good during the stretch.  It is the results we are looking for (freed of movement, lightness, blood flow, no pain, etc.) after the stretch is completed.
References
MUST READ articles about the Rossiter System Workouts for clients interested in receiving Rossiter System techniques:
For Rossiter Coaches (practitioners) in your area.