Health-Massage-Bodywork Tips
Body Sense is published for the purpose of educating the general public about the benefits of massage and bodywork, along with additional well-being topics.  I personally enjoy reading Body Sense, because the articles are short and informative. Instead of "hearing it" from me, you can benefit from other holistic health writers, too.
Here's a listing of the main articles (with summaries) in this issue of Body Sense:
"Massage Can Do That?" What You May Not Know about Benefits of Bodywork
There is more to massage than just relaxation!  Read about 7 other benefits from being more productive to making you smile!
7 Safety Tips about Autumn Yard Cleanup
Addresses how to prevent pain and injury while working in your yard.
Learning to Ground Yourself
Do think about the connection between you and the earth?  This article shares several strategies to help you get grounded.
Don't Overlook Kids' Backpacks
Lists strategies to eliminate pain and discomfort associated with overload backpacks.
And more health information…
I hope you take pleasure in reading Body Sense as much as I do!
Resources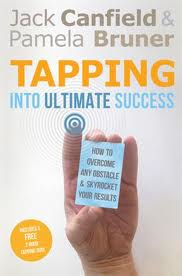 Tapping into Ultimate Success: I'm reading this book now (thank you Andy!).  Sounds too simple or maybe even silly, but it is definitely worth reading and trying it.  The book also includes DVD which demonstrates many of the techniques referenced in the book.
About What I Do
Do you identify yourself by the discomfort you are feeling lately?
Are you dependent on pain medications or considering splints and other supportive devices (like canes, shoe inserts, etc.), shots (like cortisone, steroids, etc.), and surgery to alleviate pain?
Are you tired of chronic pain, tingling, numbness, always getting injured, experiencing stress fractures, and lack of strength anywhere in your body?
Do you want improved movement, better range of motion, and restful sleep?
If you answered "yes" to any of these questions, I can help you with the connective tissue massage-bodywork therapies I use during sessions.
My website is very informative, so please visit to learn more about my services, session prices, and my schedule along with massage-bodywork benefits and tips for before, during, and after your sessions.
I would like to partner with other health practitioners (orthopedic surgeons, dentists, naturopathic doctors, chiropractors, psychological counselors, athletic and life coaches, acupuncturists, movement instructors/practitioners), health facilities (gyms, exercise studios (karate, yoga, dance)), and small businesses in the city of San Diego.  My sessions with clients do complement these services to bring about more health and well-being to people.  If you have any recommendations, please connect us by sending them my e-newsletters and contact information, OR I would be happy to contact them directly!
I can provide demonstrations and classes about health and massage-bodywork to businesses and their employees.  Review My Calendar for the talks and health/wellness events I've completed in the past in the San Diego community.
If you have any questions about my services and would like to set up an appointment, please, call or email me.  I look forward to working with you at your next appointment!
Copyright © 2007-2013 Michele Ruppert – All Rights Reserved
No part of this website may be reproduced without permission.